LAP & FILET WELDS for ELECTRON BEAM WELDING
"LAP JOINT" FOR ELECTRON BEAM WELDING
FIGURE 18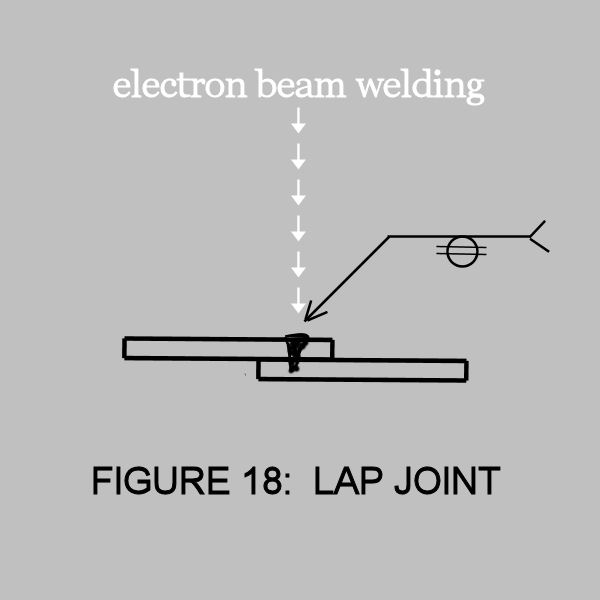 The lap-joint configuration, shown in Figure 18, is fairly common in use, especially in sheet-metal thicknesses. In very thin gauges (0.005"), this type of joint is sometimes more expedient to use, by virtue of simpler fixturing, than a square groove butt joint. Again, the weld interface width determines the joint strength, therefore a defocused beam having a larger weld width will have an increased strength. The joint can be spot welded or seam welded. In some cases, sinusoidal beam deflection transverse to the direction of weld travel is employed as a means to provide greater weld interface per unit length.
"FILLET WELD - Ex 1" FOR ELECTRON BEAM WELDING
FIGURE 19a
The fillet weld joint design is generally useful in thicknesses up to 0.062" where a full fillet is required. For thicknesses greater than 0.062", electron beam welding may be useful if a less than full fillet is acceptable. By defocusing the beam, the fillet weld may be enlarged and will present a smoother surface. Filler wire is sometimes used to increase the fillet size. As shown in Figure 19a and Figure 19b, the unique capability of the electron beam welding process can produce a fillet weld having a large depth to width ratio, resulting in a superior strength joint.
"FILLET WELD - Ex 2" FOR ELECTRON BEAM WELDING
FIGURE 19b
See comments for Figure 19a above for details