SOLID BAR WELDS for ELECTRON BEAM WELDING
"SOLID BAR BUTT JOINT" FOR ELECTRON BEAM WELDING
FIGURE 9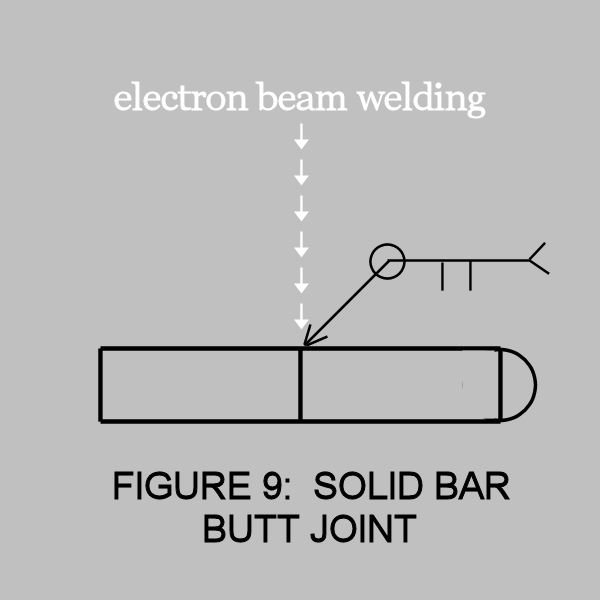 The simple square groove butt joint for the solid round bar shown in Figure 9 can be adequate for many applications, however misalignment can be a problem. This design will require the use of tack welding. Partial penetration to the midpoint results in zero welding speed at the center and a possible porosity problem. It is better to attain 60% to 70% penetration to minimize porosity formation.
"SELF-FIXTURED BAR JOINT" FOR ELECTRON BEAM WELDING
FIGURE 10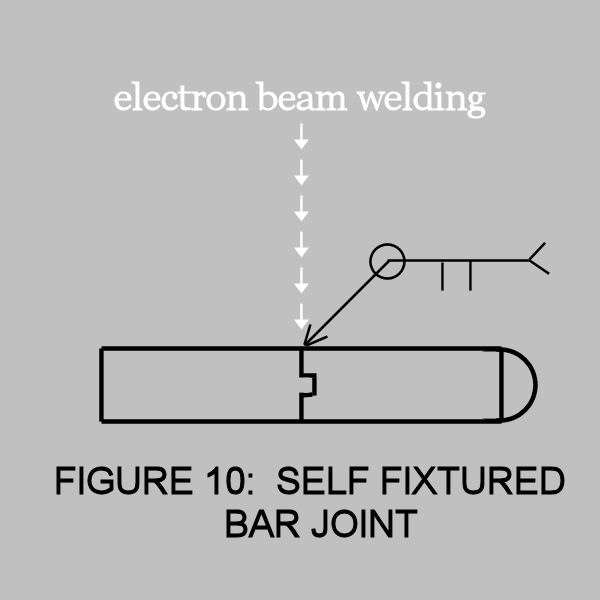 When alignment is critical the self-fixtured butt joint shown in Figure 10 eliminates the need for elaborate tooling and extensive tack welding. Usually 0.010" to 0.020" engagement is sufficient to provide proper alignment. If the configuration includes a hollow area, such as the center tap, there will be a problem with trapped air, especially when tight or press fit joint is used. The trapped air can cause porosity and expulsion of molten metal at the tie-in after a 360° weld. Whenever possible, hollow areas should be vented to the outer surface of the part. This can be accomplished by scoring the joint faying plane with a scribe line(s) 0.001" to 0.003" deep.